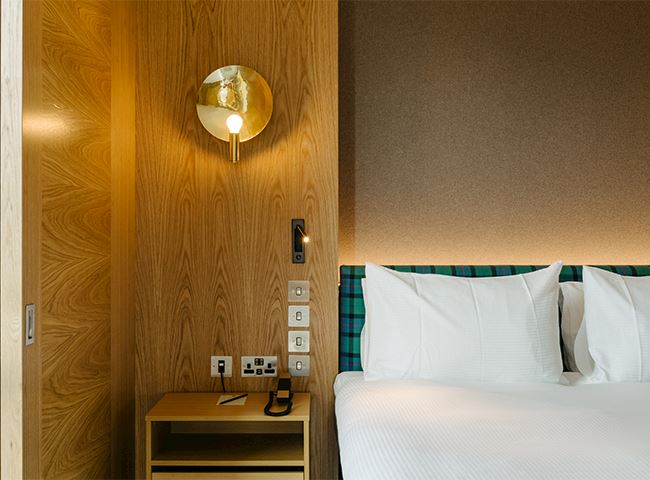 Terms & conditions
About our rates
It is our goal to make you feel comfortable, from the moment you make your reservation to the time you check out of your room. With this in mind, we are happy to provide several rate options, allowing you to choose which option provides the best value. We offer rates on a daily basis with clear flexibilities or restrictions, depending on the demand. Enjoy the freedom and the benefits of special promotions.
Reservations
We require a valid credit card in order to secure all bookings. Please have your confirmation email available when you check in together with the payment card that you booked with, as proof of identification. If you do not receive a notification email within 2 hours, please contact the hotel directly. We cannot accept liability for reservations which are not in our system upon a guest's arrival if they do not have an email confirmation.
To avoid fraudulent transactions and allow for a smooth check in, please notify our reservations team at your earliest convenience should you need to change the name on your reservation. We regret that we will only be able to check in the named guest on the confirmation and therefore require prior notice if this changes.


Groups
Groups of 10 room nights (number of rooms x stayed nights) or more may be subject to our groups cancellation and payment policy. Please contact us on stay@marketstreethotel.co.uk for any enquiries of 10 room nights or more.
Minors
We do not permit any guests under the age of 18 to stay in their own hotel room without their parents/legal guardian.
Families
Guests under 16 years of age need an adult (18+) staying in their hotel room, 16 and 17 year olds can stay alone in a room as long as their parents/ legal guardian are in an adjacent room. Please be aware that there are alcoholic beverages in the room. Please note we cannot provide extra beds in the room, if you are travelling with children please contact us to let us know at stay@marketstreethotel.co.uk.
Arrival at the hotel
On arrival at the hotel, please make your way to our 7th floor reception via the elevators so that you can check in and receive the keys for your room.
Check-In & Check-Out
Check-in Time after 3pm / Check-out time before 11am.
Special Requests
Please contact the hotel directly if you would like to request and early check in or late check out. Please note that there is an additional charge for special requests and these are subject to availability and cannot always be guaranteed.
Cancellation Policy
Flexible rates:
Cancellations or amendments must be made by 3 pm on the day prior to the arrival date. In case of a cancellation request sent after this time, or in the event that a guest does not arrive on the expected date, the total amount of the first room night will be charged to the credit card used to secure the reservation.
Advanced purchase rates and special promotions:
Please note cancellations or amendments are not permitted on any booking with a non-refundable cancellation policy. Cancellation terms may vary for special promotions and discounted rates, please refer to your booking confirmation for more information.
Bookings made via our website:
Please cancel these via our website, using the reservation number on your email confirmation. The cancellation of your reservation is only confirmed once you receive a written communication from the hotel, with a cancellation number.
Bookings made directly with the hotel reservations team via email or telephone:
Please contact the hotel directly. The cancellation of your reservation is only confirmed once you receive a written communication from the hotel, with a cancellation number.
Bookings made via other channels such as online travel agents:
Please contact the company with whom you made your reservation. Cancellation charges may vary, please refer to the specific agent's terms and conditions.
Guarantee & Payment Policy
Details of a current, valid credit card are requested, in order to guarantee the reservation after 3pm on the day before the arrival. After the cancellation deadline, a pre-authorisation for the full cost of the stay reserved will be automatically held on the credit card provided at the time of the reservation.
Full payment will be taken on departure for flexible rates. Full payment will be taken at the time of booking for pre-payable and non-refundable rates.
Pre-Authorisation
A pre-authorisation of the entire stay plus £50.00 per night will be taken at time of check-in. Any unused room credit will be refunded upon check-out.
General Terms & Conditions
All rates include VAT (tax) at the current rate. The hotel also reserves the right to add any new or additional tax/levy imposed by lawful authority which was not known at the time of booking.
Breakfast in Nor' Loft is not included in room rates unless otherwise stated.
In line with Scottish Law, smoking and the use of e-cigarettes is strictly prohibited throughout the hotel.
Pets are not permitted in the hotel.
All rates and promotions are subject to availability.
Gift Voucher Terms and Conditions
Vouchers are only redeemable after 72 hours of purchase, unless voucher validity conditions specifies differently
Vouchers cannot be split, must be used in full and no change given, cannot be exchanged for cash, replaced if lost and are non-transferrable and non-refundable
We reserve the right to refuse payment by gift voucher if the voucher was not mentioned when booking, when the voucher is not presented on arrival or where the voucher has already been used.
Promotional offer (Black Friday) hotel voucher black out dates:
01-02 Jan
09-10 Feb
16-17 Feb
23-24 Feb
15-16 March
29-30 March
Room Unavailability
Should the hotel be unavailable, Market Street hotel reserves the right of accommodating the customer totally or partially in a hotel of equivalent category. The hotel will cover any additional cost of the room, and transport between the two hotels.
Should this not be possible Market Street hotel will offer you a full refund. Under such circumstances Market Street hotel's liability is limited to the payment received for the accommodation booked with Market Street hotel and now being cancelled. This liability does not extend to travel commitments or other costs. In such an event we would naturally do all we can to offer alternative but equivalent accommodation. Please also refer to Force Majeure.
Force Majeure
Market Street hotel does not accept liability or pay compensation for any loss, damage or expense where our obligations are prevented or affected by reason of Force Majeure. Force Majeure means any event which Market Street hotel could not, even with all due care, foresee or avoid – such as war or threat of war, riots, civil strife, terrorist activity, epidemic, pandemic, industrial action, natural or nuclear disaster, fire, adverse weather conditions, closure of airports or ports, technical problems with transport, governmental action and all other similar events.
Losses & Liabilities
You will be liable for any loss, damage or personal injury that you may cause at the hotel and to hotel property. The Market Street hotel reserves the right to charge your debit or credit card (before or after your departure) for the full cost of repair or replacement of any damaged or loss of property. The Market Street hotel will use its reasonable endeavours to discuss and agree with you any appropriate charge before departure, but will proceed to charge your debit or credit card if this is not possible.
The Market Street hotel also reserves the right to charge your debit or credit card for any extras that remain unpaid at departure time.
Complaints
We endeavour to make your stay memorable for all of the right reasons, but if we have fallen short of your expectations, please let us know before you depart so that we can try to resolve the issue during your stay. In the event that this is not possible, please get in touch with the hotel directly via phone or email and our management team will be happy to help.
Gift Vouchers T&Cs
1. Gift voucher terms and conditions are provided on SK Chase's website and are to be acknowledged at time of purchase.